Intel's second annual Intel Innovation event begins Tuesday, Sept. 27, 2022, in San Jose, California. Hardware and software developers will gather at the two-day event to learn about Intel's latest advancements toward an ecosystem built on the tenets of openness, choice and trust. (Credit: Intel Corporation)
At Intel Innovation on Sept. 27, 2022, Intel revealed its new 13th Gen Intel Core processor family powered by Intel's performance hybrid architecture. The new processor family launched with six new unlocked desktop processors. (Credit: Intel Corporation)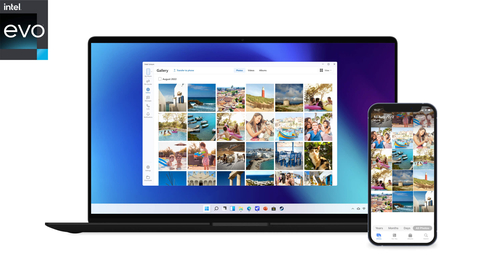 With Intel Unison, extend the power of the PC and enjoy the ease of taking a photo or a video on your phone and seamlessly editing it on your PC. (Credit: Intel Corporation)
Intel introduces 13th Gen Intel Core processors, expanded Intel Developer Cloud, Intel Geti computer vision platform and more choice in graphics to kick off two-day Intel Innovation event.
NEWS HIGHLIGHTS
The Intel Developer Cloud will make new and future hardware platforms available for pre-launch development and testing, such as the 4th Gen Intel® Xeon® Scalable processors (Sapphire Rapids) and Intel® Data Center GPUs.
Intel revealed major milestones across its line of data center GPUs, in addition to pricing and availability for the first Intel® Arc™ GPUs for gaming.
The newly introduced 13th Gen Intel® Core™ processors offer the world's best gaming experience1 and stellar content creator performance.
The new Intel® Geti™ platform enables enterprises to quickly and easily develop and deploy computer vision AI.
To bring forth a new era of semiconductor innovation, Intel will serve as a systems foundry, combining wafer manufacturing, packaging, software and the chiplet ecosystem.
Intel previewed future high-volume system-in-package capabilities that will enable pluggable co-package photonics for a variety of applications.
SAN JOSE, Calif.–(BUSINESS WIRE)–
At its second annual Intel Innovation event today, hardware and software developers gathered to hear Intel's latest advancements toward an ecosystem built on the tenets of openness, choice and trust — from driving open standards to make "systems of chips" possible at the silicon level, to enabling efficient and portable multi-architecture artificial intelligence.
This press release features multimedia. View the full release here: https://www.businesswire.com/news/home/20220927005457/en/
Intel's second annual Intel Innovation event begins Tuesday, Sept. 27, 2022, in San Jose, California. Hardware and software developers will gather at the two-day event to learn about Intel's latest advancements toward an ecosystem built on the tenets of openness, choice and trust. (Credit: Intel Corporation)
Intel also showcased an array of new hardware, software and services aimed at helping its broad ecosystem of developers overcome challenges and deliver new generations of innovation.
More: Intel Innovation 2022 (Press Kit) | Intel Innovation Day 1 Broadcast (Livestream/Replay) | The Future is Wide Open (Greg Lavender Editorial) | Intel Innovation Day 1 Live Blog | Intel Launches 13th Gen Intel Core Processor Family Alongside New Intel Unison Solution (News) | 13th Gen Intel Core Processors (Press Kit)
"In the next decade,